ATA Magazine
Michelle Ranger: Creating space for Indigenous education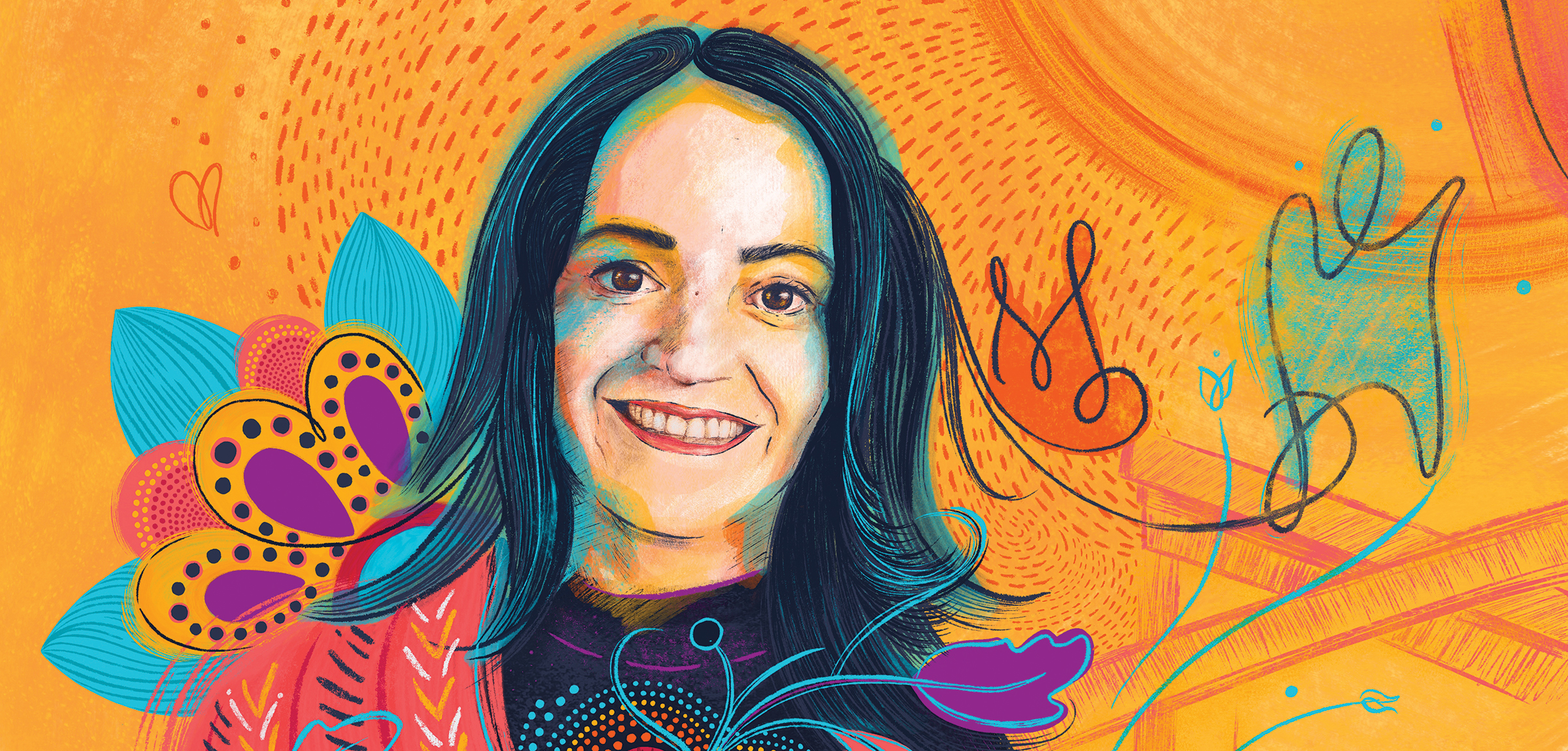 Imagine a space where ­students' Indigenous identity is embraced and celebrated, where even the hallways are consciously imbued with Indigenous culture and community. This is the space Michelle Ranger helped create.
"I grew up always knowing and deeply appreciating within that I was Métis," Ranger says. "Both my parents are Métis and my husband is also Métis, but we were only proud of this when we returned home or in our family circles."
Ranger has carried that appreciation into her career in education, a journey that began more than two decades ago, encouraged by the Saskatchewan Native Teacher Education Program (SUNTEP).
"I liked the concept about learning about pedagogy, curriculum and teaching alongside learning more about who I was as a Métis person and through Indigenous perspectives and ways," she recalls.
In a career with many highlights, one of the most meaningful for Ranger has been serving as the first principal of the Niitsitapi Learning Centre (Niitsitapi li tass ksii nii mat tsoo kop, A Place of Learning for All Indigenous People), an early intervention program in the Calgary Board of Education that embraces Indigenous identity.
With engagement with Elders and Indigenous community agencies, the centre opened in September 2016 with Ranger at the helm. The centre's program for children aged three to seven focuses on improving outcomes for Indigenous students by supporting the whole child through foundational knowledge.
"At Niitsitapi, Indigenous students will only know themselves as being strong, proud and loved," Ranger says.
From the programming to the wraparound services to the physical space, every aspect of the centre (referred to as NLC), has been approached through the lens of respecting and reflecting the diversity of Indigenous perspectives.
Ranger reflects on the meaning of the centre for not just the students, but for the families and the Indigenous community.
"I will never forget how my heart and spirit felt walking Elders, along with many others, into the ceremonial room within NLC once it was completed," ­Ranger says. "I was able to share with them all that a ­provincial school district acknowledged the ­importance of this space."
Though no longer principal of NLC, Ranger continues to extend the learnings from the centre across the school division through her role as a system principal, Indigenous education lead. She's hopeful about the future.
"In this generation, we are seeing a shift," she says. "My kids are proud to say they are Indigenous; even though we still face racism and discrimination, things are slowly changing. The young people are the catalyst of change."
Got an idea? Unsung Hero is a space dedicated to honouring ATA members past and present who have had notable achievements, either in the ATA or in their private lives.
If you know of a member whom you feel should be recognized, please contact section editor Lindsay Yakimyshyn at lindsay.yakimyshyn@ata.ab.ca.
Read more