ATA Magazine
Not your average polar bear
Improvised act of kindness has lifelong impact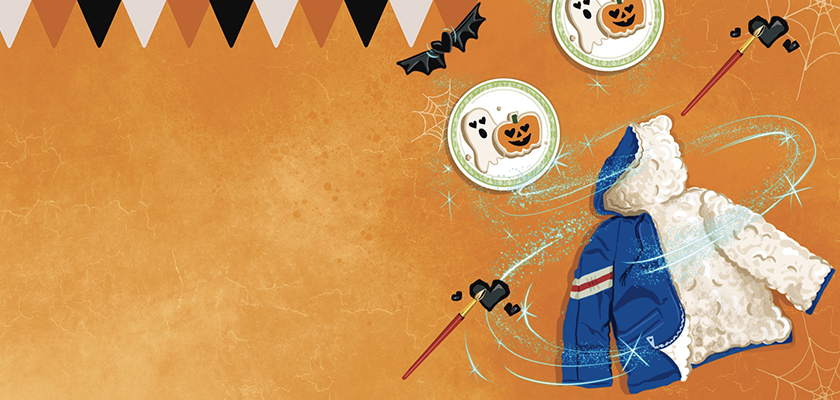 The challenge
Turning Halloween tragedy into triumph with little time or materials.
I remember as a Grade 1 student in the early 1970s taking the S10 from Capilano and transferring to the U2 (not the band, the bus) in front of Woolworth's to get to my school on the west end of downtown Edmonton, Holy Child Catholic Elementary (formerly École Grandin). It was a long trip for me and my older brother, who was in Grade 4. 
We attended that school partially because my mom wanted us in French immersion, but more importantly, because she knew the principal, Louis Binassi, from her high school days. 
Holy Child was your typical brick and mortar, two-storey building built in the early 1900s, but Mr. Binassi, and the rest of the staff, brought it to life.
The one day that will always stand out in my year there is Halloween. My parents had just divorced and money was scarce. I recall that my brother and I had stayed at my grandmother's the night before, and I went to school on Halloween morning with no costume and no treats for the party that was to take place that afternoon. When I walked into that classroom and saw everyone in a costume, my heart sank and I started to cry. My teacher walked me down to the office, and that started the act of kindness that I will never forget.
Mr. Binassi and the school secretary snapped into action. They took my white, fleece-lined winter coat and turned it inside out. A little black paint or makeup on the nose and I was instantaneously transformed into a polar bear. Mr. Binassi grabbed some cookies from somewhere and we walked
back to the class. I held my head high, and I was proud of my new costume.
"The principal of my school went out of his way that day to make me feel good about myself."
I do not really recall the rest of that day, let alone the rest of Grade 1, but I know the principal of my school went out of his way that day to make me feel good about myself and feel like I belonged. I cannot remember if I ever thanked Mr. Binassi for that act of kindness 50 years ago, so I will do so today. Thank you, Mr. Binassi, from me and all the other students. You made us feel welcome and special in your many years as a school leader.
Got an idea? Maybe you created a lesson that totally flopped or were on the receiving end of a lesson that was truly inspiring. Whatever your story, please summarize it in up to 300 words and email it to managing editor Cory Hare at cory.hare@ata.ab.ca.