ATA Magazine
Check it out!
These resources are now available through the ATA library.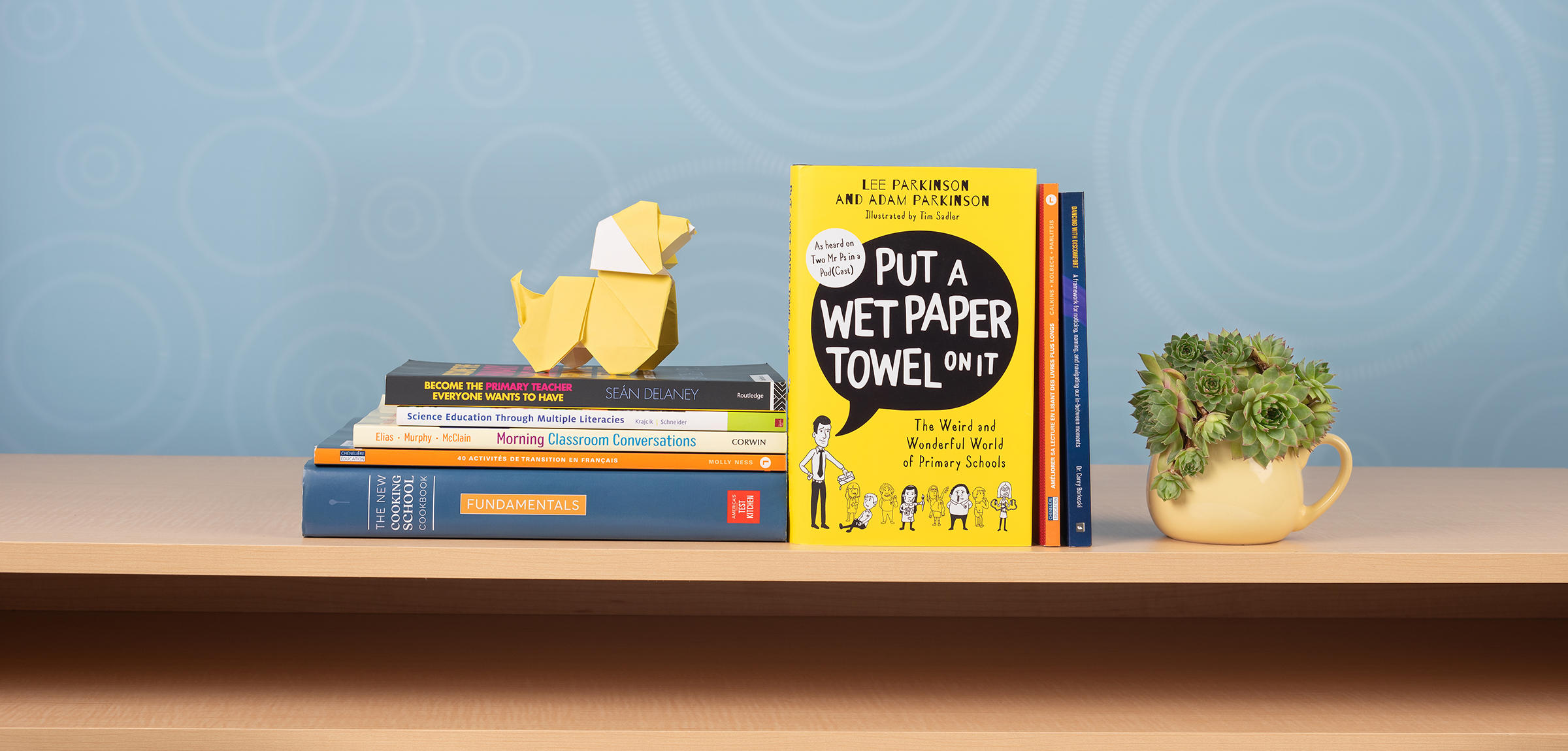 Have you ever used your ATA library? If not, you should give it a try. Books, DVDs, robots and more delivered right to your doorstep with return postage paid by us. Great teaching resources are waiting for you. Contact us at library@ata.ab.ca.
1. Become the Primary Teacher Everyone Wants to Have: A Guide to Career Success
New teachers begin their careers with a dream of being the teacher they longed to have or perhaps the one they were lucky enough to have. This book is like having a thoughtful mentor with you who shares experience gleaned from a successful teaching career. You'll get the best advice on becoming the teacher you long to be.
2. Science Education Through Multiple Literacies: Project-Based Learning in ­Elementary School
Interested in project-based learning but not sure where to start with your elementary students? This book provides you with useful ideas and projects to get project-based learning jumpstarted in your science lessons.
3. Morning Classroom Conversations: Build Your Students' Social-Emotional, Character, and Communication Skills Every Day
Structuring a morning classroom ­conversation in your room will help ­students to reset for the day so that they are ready to engage in critical thinking, use listening skills and engage with other respectfully.
4. 40 activités de transition en français : ­profitez pleinement de chaque minute en classe
Cet ouvrage présente plus de 40 ­activités de transition en français divisées selon le moment où elles peuvent avoir lieu. Des conseils en vue d'adapter les activités pour ­l'enseignement à distance sont ­également proposés.
5. The New Cooking School ­Cookbook: Fundamentals
This useful food science book answers many everyday questions that ­students pose. Eighty focused sections allow teachers to dive into exactly the topic they are covering in class, and infographics throughout the book provide deeper explorations of recipes and ingredients.
6. Put a Wet Paper Towel On It: The Weird and Wonderful World of Primary Schools
A humorous look at life as an elementary school teacher by two UK teachers. Just what you need to help you through the rest of the school year!
7. Améliorer sa lecture en lisant des livres plus longs
Dix-sept ateliers et de nombreuses activités permettent aux élèves d'acquérir autonomie et aisance en lecture. Guidés par leur enseignant, les jeunes lecteurs sont amenés, entre autres, à lire avec fluidité, à comprendre le langage littéraire, à utiliser des stratégies de compréhension pour lire des livres plus longs et plus complexes.
8. Dancing With Discomfort: A Framework For Noticing, Naming, And Navigating Our In-Between Moments
Transitions in life naturally bring discomfort as they are movements through change. Rather than avoiding or rushing through the transition, we are encouraged to sit with our discomfort and discover strategies and techniques for embracing moments of discovery.
Your colleagues recommend
Teachers suggested these reads via Facebook.
Robin Senger
The Krubera Conspiracy and A Killing Game by Jeff Buick, a great Calgary author. Unfortunately, only available on Amazon and Kindle. A Killing Game won best ebook thriller for North America last summer.
Kate Moussa
After being ruled by bell times and deadlines, last summer I reached for Carl Honoré's In Praise of Slow. True to the title, I didn't finish it before we were back in the classroom 😆 ! I look forward to finishing it this July.
Katrina Zack
I loved The Forest of Vanishing Stars by Kristin Harmel, because it ticked all the right boxes when I was looking for a book—historical fiction, a little bit of romance, no crying and a happy ending. It is an amazing cross between Where the Crawdads Sing by Delia Owens and The Tattooist of Auschwitz by Heather Morris.
Andrew Bullen
I'm reading Why We Sleep by Matthew Walker. It's a pretty cool look at fairly ­current sleep research and is very ­interesting to boot. I'm thinking I'll use it to make an ­assignment for my Bio 30 kids in the fall.
Deb Gerow
I just finished reading Red Notice by Bill Browder. As difficult to put down as a good thriller, but non-fiction. A must read.
Read more