Anti-racism advocate to join ATA's PD program area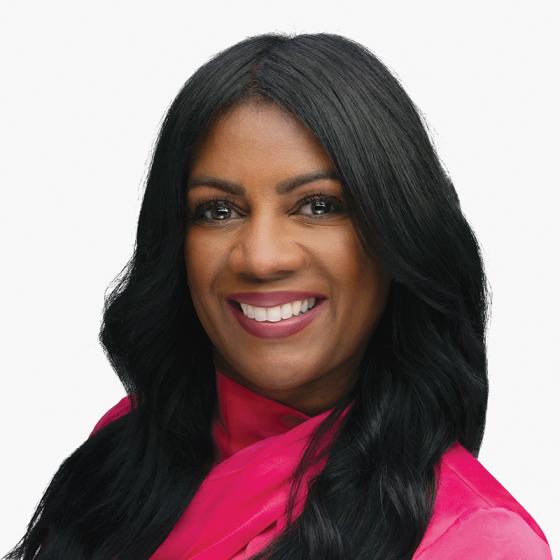 Gail-Ann Wilson Mitchell
Bringing experience in public speaking, leading workshops, multiple ATA committees and 22 years of teaching, Gail-Ann Wilson Mitchell is one of the newest executive staff officers to join the ATA's Professional Development program area.
Gail-Ann Wilson Mitchell may be a familiar name to many members. She was a guest editor of the fall 2021 issue of the ATA Magazine, a keynote speaker at the ATA's Women in Leadership Summit last March and advocated against the draft social studies curriculum on stage at the Ditch the Draft rally in April of 2022.
"My experience working as a local professional development chair and diversity consultant has been extremely rewarding because for many people PD is transformational to their professional practice," Wilson Mitchell said.
Wilson Mitchell consults with businesses, government and community groups on how to intentionally address anti-Black racism while building inclusive communities. Currently she is the co-chair of the ATA Status of Racialized Teachers Ad Hoc Committee. Wilson Mitchell is coming from Edmonton Public Schools, where she is a diversity education consultant.
"I am an advocate in the areas of social justice, human rights and anti-racism and my wish is to ensure that all teachers receive the support they need for professional success and employment retention," she said.
Wilson Mitchell is a former high school social studies teacher. She has her BEd and a master of arts in communications and technology from the University of Alberta. ❚
5 more things about Gail-Ann
What excites you most about your new position?
Most of my experiences have been focused on working with teachers locally in Edmonton. As an executive staff officer in PD, my wish is to learn from many diverse voices and improve both educators' and ultimately also their learners' experiences for the better.
Knowing what you know now, what advice would you give yourself in your first year as a teacher?
Learning about people matters as much as learning about content. Sometimes the things your students need most have nothing to do with what's on your lesson plans.
What is the greatest life lesson that teaching has taught you?
Amplifying the best qualities in people is what I treasure most about working in education. No matter what I've aspired to be, my greatest lesson learned is that being a good educator is rooted in being a good human.
Favourite song to put you in a good mood?
"Drops of Jupiter" by Train
Favourite hobby/activity/project on the go at home?
I love walking! Many years of playing soccer have left me with bad knees, so I've stopped running. My favourite activity is walking in the water anywhere hot and sunny. Does taking long walks on the beach sound really cliché?
PD program area welcomes Black Gold teacher
Terra Kaliszuk
There will soon be a new face in the Association's professional development contingent.
Terra Kaliszuk will be joining the ATA as an executive staff officer on Feb. 1.
Kaliszuk began her teaching career with Black Gold School Division in 2003 and has been with the division ever since. She's worked in several schools and communities teaching junior high English language arts, social studies, science, art and CTF programs. She has also been facilitating professional learning in various capacities for years.
"It is such an honour to be part of a peer's learning journey," Kaliszuk said. "As teachers, we are surrounded by amazing, expert colleagues from whom there is so much to learn."
Kaliszuk spent three years seconded to Alberta Education where, under the previous government, she worked to support curriculum implementation and resourcing. She received a bachelor of education in secondary education from the University of Alberta, focusing on secondary education, English language arts and biological sciences. She followed that with a master of education degree in educational leadership with a research focus on professional development and sustaining professional change.
Along with being part of the ATA's instructor corps and providing instruction at the provincial level, Kaliszuk has written about social and emotional learning for Leaders and Learners magazine, and also created two PD workshops for the Association.
Her career path began at an early age, as Kaliszuk's dad was also a teacher.
"I spent many hours on the weekend in my dad's classroom, helping to organize his collection of books or put up bulletin boards," she recalled, adding that the "warm, supportive and learning-focused environment" that she felt among her Association instructor peers is what led to her desire to work at the ATA. ❚
5 more things about Terra
What makes you the most excited to start work at the ATA?
As you may have gathered, I absolutely love designing and facilitating professional learning. I am so proud to offer these skills in the service of my profession.
Knowing what you know now, what advice would you give yourself in your first year as a teacher?
Be kind to yourself. Teaching is an intense profession, and it is easy to get into a habit of negative self-talk when you feel like you're running hard to stay in place.
What is the greatest life lesson that teaching has taught you?
The importance of empathy. Making a purposeful effort to understand and truly value others' perspectives enriches one's professional and personal life.
Favourite song to put you in a good mood?
There are so many! I love music of all kinds, but if I had to pick one it would be "Lemon" by U2.
Favourite activity/hobby/project on the go at home?
I love to make art, crafts and custom shirts when I have a moment to myself. My family and I are also four-season hikers — there's nothing like the great outdoors!
More from this issue