Learning Team
The rally is done. Now what?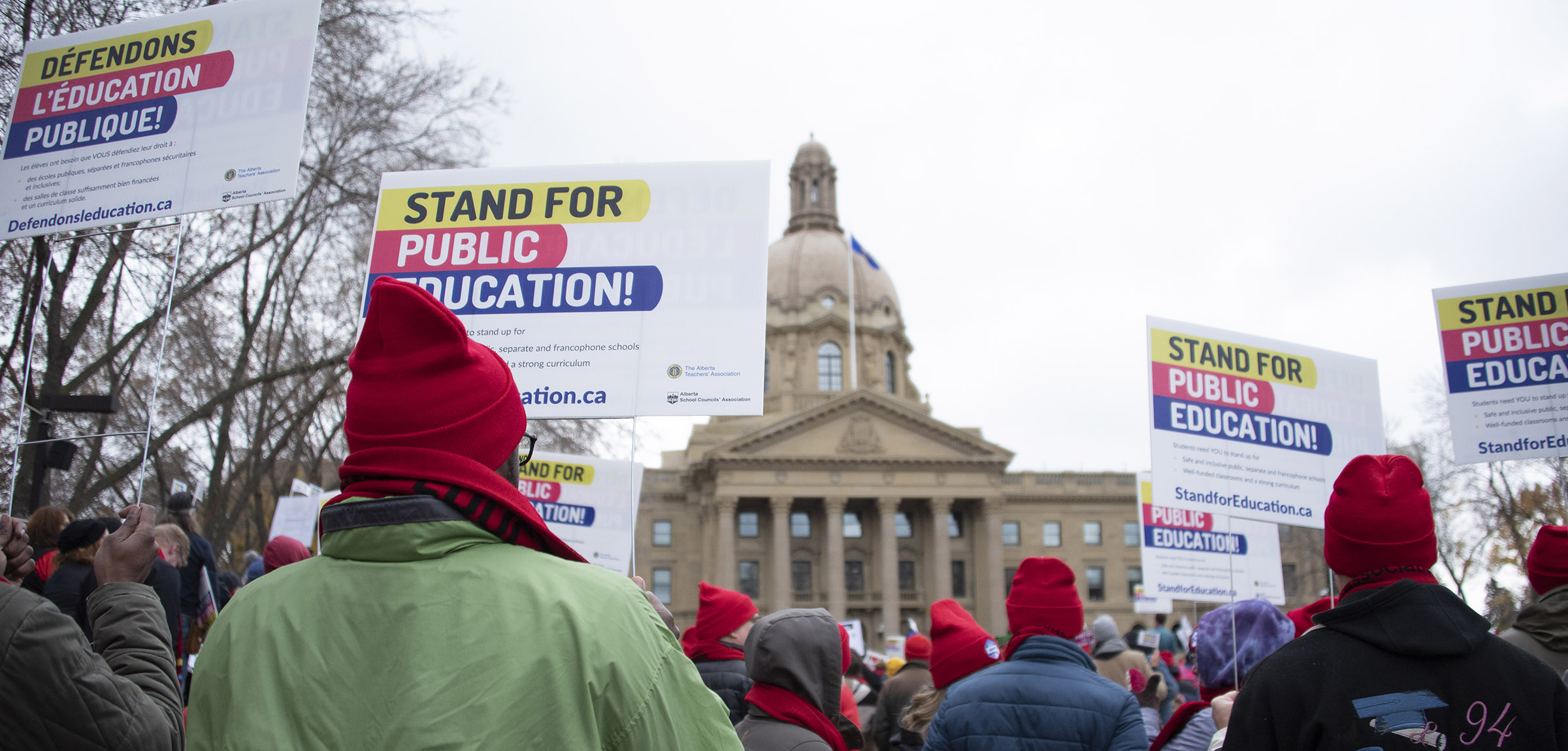 For many reasons, public education has long been a topic that garners significant attention in Alberta politics. Firstly, most families choose the public system for their children's K-12 education. As such, families, including extended families, have a vested interest in ensuring that public education supports student learning well so students have the opportunity to thrive and grow into confident, well educated members of society. Secondly, given the number of communities and families benefiting from public schooling, the education portion of the provincial government's budget is significant — this year's budget is $8.7 billion. Most of this budget goes to public education, so there is pressure to assure the public the resources are well spent.
Where provincial governments adopt fiscal restraint policies, austerity measures are typically directed most prominently at health care and education. Under the current government, politicians made decisions to reduce their revenue streams by cutting corporate income taxes and with oil revenues fluctuating unpredictably, funding for education and health has not kept up with population growth. In addition to shrinking resources for public schools, the government has engaged in a series of disastrous decisions for public education, including poor support for schools grappling with the COVID-19 pandemic and its impacts as well as a draft curriculum that has been roundly rejected by parents, academics and educators.
Under current legislation, Alberta has a fixed election date. Our next provincial election is scheduled to be conducted in May 2023. As such, the Alberta Teachers' Association has undertaken a political advocacy plan in three phases intended to advance the interests of public education and ensure it is a ballot box issue heading into the election. While the Association maintains a non-partisan stance, it advocates for every student to have access to a well funded public education system staffed by highly trained teachers, school leaders, and other education workers.
The first phase of the advocacy plan was to hold a rally for public education at the Alberta legislative grounds. This rally, a joint effort between the Association and the Alberta School Councils' Association, brought together more than 4,000 teachers, parents, grandparents, students, and community members from all over Alberta to show support for public education.
The second phase of the advocacy plan will build on the momentum created by the Stand for Public Education rally by holding a series of public roundtable sessions across the province to discuss how to create a hopeful vision for public education. The third phase of the plan will focus on activities that engage citizens to ask questions of all candidates running for public office to learn how each candidate and party, if elected, will support public education.
The year of advocacy planned by the Association promises to advance the aims of public education with a hopeful view that this will help build a society for the betterment of young people, families and communities.