ATA Magazine
Drama teacher duo celebrates 25 years of collaboration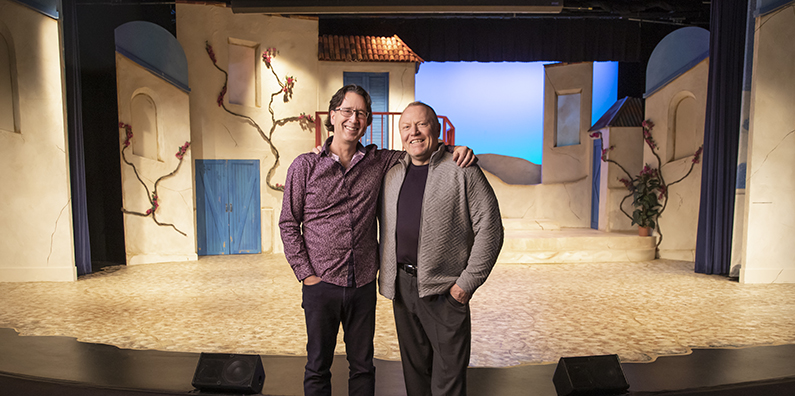 This is as close to silent as the theatre will get in the weeks leading up to a big show.
Even though it's dinner break, and most students are across the street grabbing a quick slice at Nitza's Pizza, the 450-seat auditorium still hums with chatter from those who have stayed behind. Heavy stage curtains hardly dull the jovial bellows of director Jim Nahrebeski, who putters in the wings.
In terms of noise, co-producer Don Steenwinkel knows not to expect any less — the theatre is subdued, but far from silent. This is good enough for him. He relaxes into a front row seat to study the skeleton of a wooden balcony, one of many set pieces that will transport the audience to Greece for Leduc Composite High School's production of Mamma Mia! It's the 25th consecutive year that Nahrebeski and Steenwinkel have directed the school's annual musical. It will also be their last production together, as both teachers transition into retirement.
Nahrebeski sums up his co-producer in two words: inspired genius. But Steenwinkel credits Nahrebeski with having a clear vision for each show.
"He's got that picture of what he wants it to look like in his mind's eye, and I've got a picture of what I want it to sound like."
This makes sense, given that Steenwinkel was first hired in 1997 to revive the school's band program. Nahrebeski then roped him in to help with the music for Grease. A year later, they wrote the curriculum for a 10-credit class that would grow to become a pillar at the school: the musical theatre program.
Guys and Dolls marked the program's first official production in 1999. Post-performance, nobody in the cast or crew could sit still. The students, Nahrebeski remembers, were awed by their own success
"That energy? That's the Kool-Aid we drink every time," he says.
Over the years, Nahrebeski and Steenwinkel have established several student-centred principles they've always adhered to, like ensuring that any kid who wants to be onstage, gets onstage. This means that some shows have seen up to 55 different performers.
But of course, no production is without its challenges. During their second production of Guys and Dolls, one actor completely lost his voice; the student lip-synched "Sit Down You're Rockin' the Boat" as Steenwinkel sang from his place at the drumkit. When the Maclab Centre closed for renovations in 2004, the musical moved to the Timms Centre in Edmonton, and a heap of problems hitched a ride, such as a set piece jumping ship on Highway 2 and a '58 Buick having to be lifted from trailer to loading dock in minus 35-degree weather.
Steenwinkel says humour is the key to keeping such challenges in perspective.
"It's laugh or cry sometimes," he says. "So we choose to laugh."
The duo recalls how, in the early days, they relied heavily on their school community to bring each vision to life. Make-up savvy moms painted faces while whole families stepped up to build sets. Anyone involved, no matter their capacity, instantly became part of the village, a village that program alumni remember for the way it nurtured their creativity, confidence and sense of community.
"Many friends I made in that class are my closest friends today," says Tyler Biddulph, a 2014 graduate who just completed his second teaching practicum. His major, of course, is drama.
Another musical theatre program alumna, Rebecca Schmautz, went on to the Vancouver Film School; now, she acts in feature films. Schmautz credits Nahrebeski and Steenwinkel with giving students "something a lot of kids in high school search for: a place to belong, a community where they are safe to be themselves."
Though it has been a decade since he was their student, Stephen Raitz can still paraphrase one of Steenwinkel and Nahrebeski's promises.
"You will forget the equations, the theories and many other things from high school courses, but you'll never forget this show."
"And it's so true," Raitz says. "I carry the memories and the friendships made to this day."
As students return from their break, the theatre begins to buzz. The stage fills with shoes scuffing out bits of choreography. In the wings, voices volley lyrics into the rafters. The students can't help it —they're itching to resume their work.
Steenwinkel gestures around at the theatre.
"I consider this a great achievement," he says, "but that's not what keeps you going for 25 years."
His gaze floats toward the stage, where several students stare up at him in anticipation. Their eager eyes beckon the magic-makers back. Steenwinkel grins.
"It's not about us," he says. "It's knowing that we're making something special with these guys."
Backstage with Jim Nahrebeski and Don Steenwinkel
How has the partnership transcended the musical theatre program?
Jim: Over the years we have forged a friendship that transcends most. This is built on shared experience that can never really be understood by anyone else. We have experienced both of the faces of drama — tragedy and comedy. We have attended our students' funerals and their weddings. The highs and lows of running this program for so long have brought us to a level of friendship that can't be broken.
Is there a particular song that you can no longer stand to hear?
Don: After each show, my brain spins with "earworms" for weeks. Sometimes I'm so sick of them I have to put headphones on at night and listen to something else just to sleep. But after about a year, this is replaced by time and place memories that bring me back into the theatre and make me smile, and it makes me happy to know that I will always have that.
As a long-time football coach, what would you say are some commonalities between football and theatre?
Jim: I think the biggest one is moving people around in space to create the vision you are trying to achieve. As well, the unification of a cast or a team working toward a common goal — absolute commitment for success.
How does your experience with the LCHS musical theatre program compare to your experience directing Leduc's community choir for adults?
Don: Directing adults is a very different thing! I often have to catch myself to avoid using school classroom management techniques to get their attention. But Leduc is a great arts community, and I have parents and even grandparents of students singing in the choir. And now, former students are starting to join, and the choir has grown over the years to a wonderful mix of young and old.