ATA News
Daily mental health supports just a text message away
New program targets teachers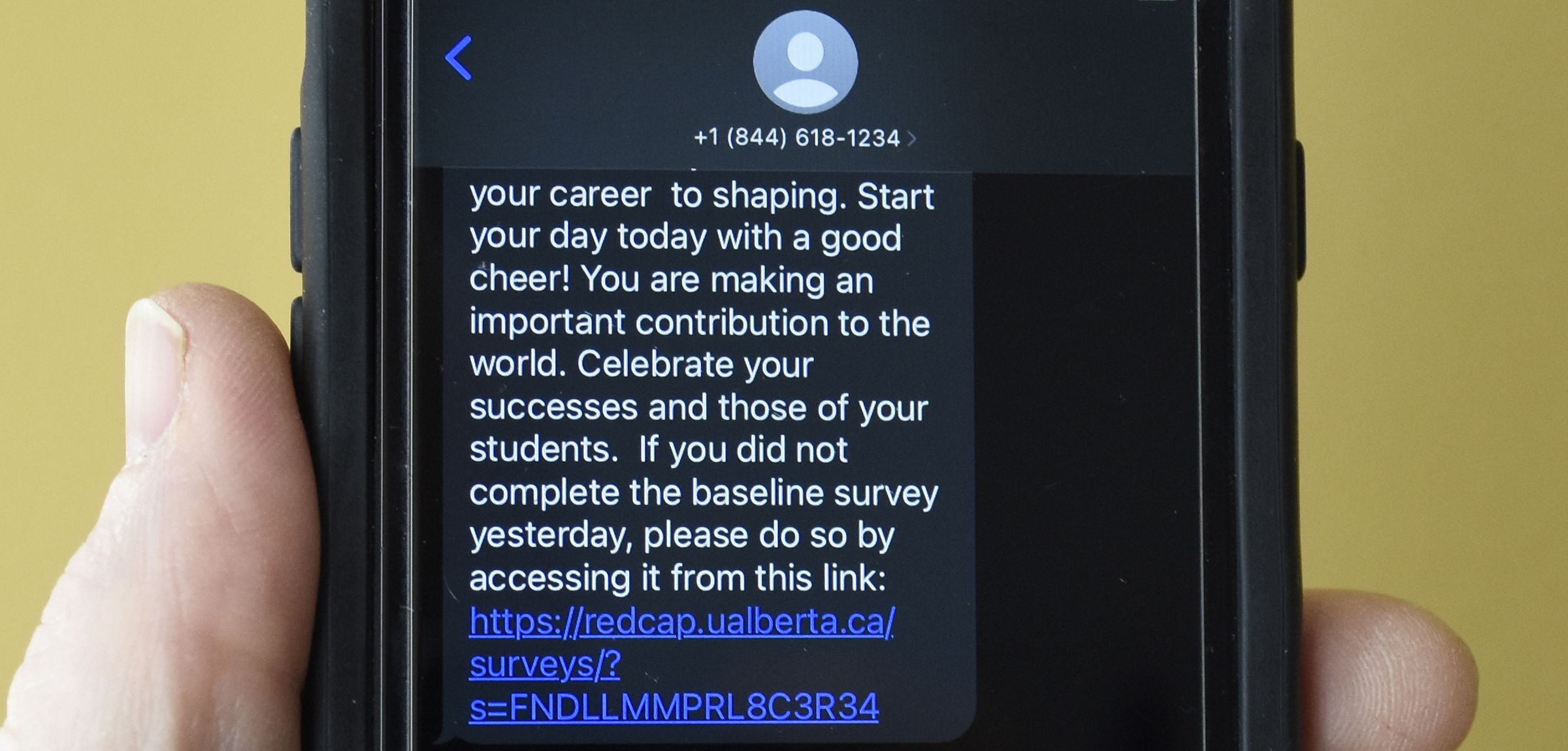 Remember you have strengths and gifts to help you manage and be proud of your accomplishments. Share them with others.
This is an example of a daily supportive text message that teachers can subscribe to as part of a new mental health service that is now available.
The Wellness4Teachers program is a free subscription that sends a daily supportive message designed to help teachers build resilience and improve professional satisfaction. Based on cognitive behavioural therapy, the messages have been crafted by a team of experts with backgrounds in psychology, mental health and education.
"The pandemic has been difficult for everybody but particularly for teachers," said project lead Belinda Agyapong, president and CEO of Global Psychological eHealth Foundation. "We feel like, why don't we focus on teachers and see how much this program will be of benefit."
A former teacher, Agyapong is a University of Alberta student who created the project as part of her PhD thesis in psychiatry. As part of the program, subscribers will be asked to complete voluntary, anonymous surveys so researchers can track the program's effectiveness.
Agyapong is aware of several previous studies involving daily supportive text messages based on cognitive behavioural therapy. For example, the technique was used in Fort McMurray following the wildfire of 2016 and has also been employed in Ireland.
Previous studies have found that subscribers experienced a 25 to 50 per cent reduction in depression symptoms and a 23 per cent reduction in anxiety symptoms. Overall mental well-being improved in more than 75 per cent of subscribers.
Cognitive behavioural therapy is a form of psychotherapy that aims to help individuals develop positive thought and behaviour patterns, which contributes to them experiencing more positive feelings.
"It's just changing the way we think and moving from negative to positive and seeing ourselves as capable and able," Agyapong said.
How to subscribe
Teachers can subscribe to the Wellness4Teachers program by texting TEACHWELL to 1-844-618-1234. Each day, subscribers will receive a message with or without a related web link to provide support and build coping skills for managing stress, burnout, anxiety and depression symptoms. Subscribers can opt out at any time by texting STOP TEACHWELL.