What does it take to be a leader in education?
Superintendent Krimsen Sumners proves the value of compassion and brave vulnerability, as she forges relationships across and beyond school communities to best support students.
*****
It was the 1990s.
Sumners had been teaching at a First Nations reserve school near Lac La Biche before moving to Sir George Simpson School in St. Albert just a few days into the new school year.
"Even as a very young teacher, her manner with her students was a joy to observe," recalls colleague Lois Gluck. "She genuinely loved them, respected them, listened to them, worried about them and brought out the best in them."
An elementary specialist with a focus on inclusive education, Sumners was a champion for all students, but particularly for those with diverse needs. Her passion for inclusive education served her well as she transitioned into leadership roles, first as an assistant principal and then as director of student services.
"She brought an extremely balanced approach to leadership, effectively melding her deep compassion for students and staff with her commitment to doing what's right," says Barry Wowk, who was superintendent at that time. "I always felt her background in special education has provided her with a real advantage in her approach to leadership. She understands that individuals come with their own personal story and experiences."
In her director role, Sumners shone by capitalizing on her teaching experiences and showing how she could turn ideas into actions with sustainable outcomes for the division and its students.
Due to her experience with inclusive education, she recognized a need for a preschool program and knew where to access government funding. Sumners found space and money to start a preschool program that is still operating, to better meet the needs of the children in the community.
While Sumners might have been content to stay in the ­director role, where she was already making meaningful change, she was pushed to take another step, and another.
She says that without the encouragement of Gluck, Wowk and other senior leaders, she most likely would never have left the director of student services position: "Each of these mentors in their own way nudged me forward, and encouraged me to continue learning and growing."
Sumners took on the role of associate superintendent of programming and planning, deputy superintendent and then superintendent. Now in her sixth year as superintendent of St. Albert School Division, Sumners is one of 20 women superintendents in Alberta (representing less than one-third of Alberta's superintendents).
Trust to your toes
Women in leadership must navigate societal gender expectations — Stanford scholar Marianne Cooper describes how they are expected to be nurturing and helpful rather than ruthless and detached. While this can be a complicated norm to traverse, kindness and compassion are an asset for Sumners.
Sumners's right-hand woman, deputy superintendent ­Marianne Barrett, says one of Sumners's greatest strengths as a leader has been her ability to build relationships.
"Everybody says that relationships are key and that's their priority, but I see her living that every day," Barrett says.
Barrett lauds the way in which Sumners makes time for everyone, from her team to teachers to parents, and values each staff member's contribution to the school community.
Working with Sumners in division office, Barrett has seen how Sumners establishes and leverages relationships to address matters of importance to staff, students and parents, with simultaneous directness and kindness.
"She is deeply empathetic but is not afraid to make tough decisions," Barrett says.
From tackling school boundary issues to racism, Sumners pushes forward to create positive change, but does so with humility. Her respect for her team, which includes Barrett, as well as two associate superintendents, is unmistakable. Sumners describes the synergy and equitable perspectives within the team, emphasizing the importance of creating a space where everyone can find the best way forward, together.
"Trust and relationships are key. I believe that to my toes." Sumners says, "If you don't have the trust, it doesn't matter what magical idea you come up with, it's not going to work. People need to know from a leadership perspective that you're invested in them."
Brave vulnerability
Another key to Sumners's successful leadership is her vulnerability — her willingness to put herself and her ideas out there.
"She was never afraid to provide an idea or divergent thought to ensure that our team thought of all the angles of a difficult decision," Wowk says.
Being vulnerable can be difficult, though, especially given systemic barriers to women moving into leadership.
Individual choices about pursuing leadership or not vary, with each woman having their own unique set of ­circumstances. At the same time, researchers Raina Brands and Isabel ­Fernandez-Mateo have identified patterns that suggest women have higher expectations placed on them and are less inclined to pursue leadership once rejected.
Speaking to the courage required to take the leap into leadership, Sumners says, "Vulnerability doesn't mean weakness; actually it's the exact opposite,"
While Sumners never felt that her gender posed any barriers on her path to leadership, she recognizes that her experience is not universal and that intentional supports are necessary to encourage women leaders.
"I have been surrounded by really strong women leaders and really strong women role models who were constantly encouraging," she recalls, "My mom and dad always believed that there are no holds barred. If you want it, you go get it. It wasn't an if, it was when."
In her division, promoting this type of mindset in potential leaders takes the form of professional learning opportunities, formal mentorship or informal mentorship. Sumners is particularly pleased to see gender parity in the division's leadership and administration.
"I am proud to say that we are starting to get more women leaders who want to be in administration. That hasn't always been the case."
Sumners knows that access to learning opportunities and mentorship is vital. But what truly matters is fostering the ­confidence — the brave vulnerability — in women to take the next step.
"Women have to be courageous sometimes, not sit back and wait," Sumners reflects, "If you've got a dream to be something, then get out there and start forging to get where you want to be."
Superintendent Krimsen Sumners says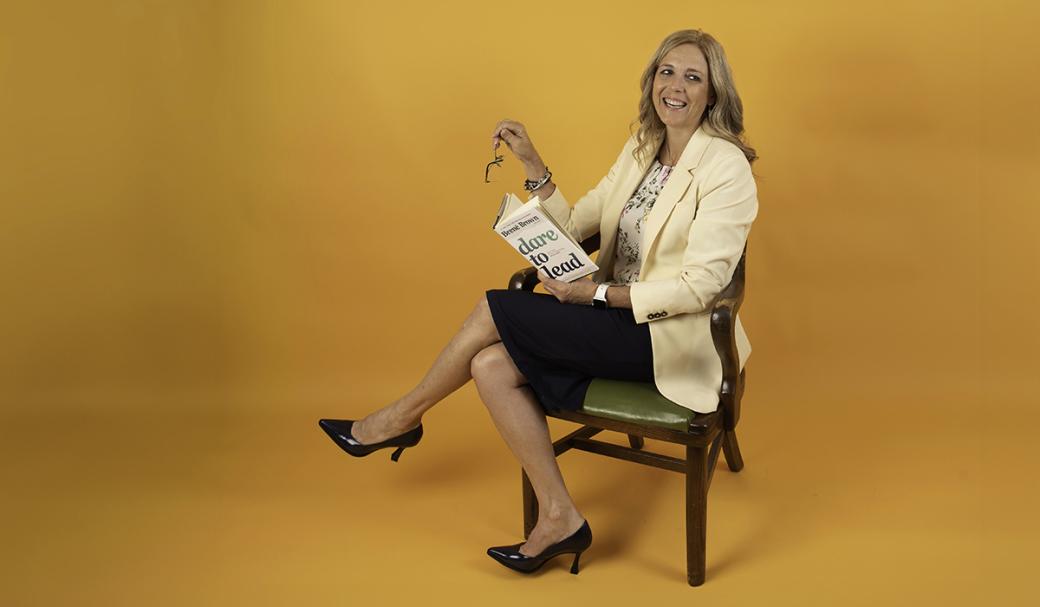 What makes a good leader in education?
"Gut instinct. Honesty and integrity. Lead from the heart, not from the head."
What is your advice for women considering leadership roles?
"You don't have to have all the answers. Part of being a leader is being willing to learn alongside your staff, understand what their needs are and then take it to the next step."
More from this issue